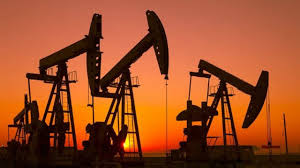 Headlines:
1. Sovereign U.S. Has Much Leverage.
2. Does Donny T. Have The "Sack" To Exercise It?
**************************
So Oil Closed At $-37.63 Several Weeks Ago…Which Is Truly Remarkable.
Three Very Simple…Simultaneous…Reasons Account For This:
1. Demand Shock [Covid-19].
2. Supply Shock [U.S. "Ally" Saudi Arabia + U.S. Adversary Russia].
3. Lack Of Adequate Storage [Tied To Both Demand Slack + Supply Surplus].
**************************
So What Now For Oil Prices?
Naturally…It Depends.
But First…Consider The GDP Of The World's Three Major Oil Producers…All At/About 11M/bpd +/- :
…U.S. GDP = $20.5T
…RUSSIA GDP = $1.6T
…SAUDI ARABIA GDP = $.8T
**************************
Now…Consider The Largest Oil Consumer On The Planet.
That Is…The U.S…At 20M/bpd +/-.

Yes…The U.S. Consumes More Oil Than It Produces…Despite Repeated Assertions From Prez Donny T. That The U.S. Is Petroleum Independent.
Actually…It Is Not…By About 9M/bpd…Just Under One Half Of Its Oil Consumption.

**************************
Back To The Basic Math…
The U.S. = The Largest Consumer Of Petrol + One Of The Three Largest Producers Of Petrol.
However…Of The Three Largest Sovereign Oil Producers…The U.S's Cost Of Production Is Higher [for many reasons… primarily faster depletion rates + repeated fracking costs associated with quicker depletion] Than Both Russia + Saudi Arabia …So The Advantage In This Part Of The Calculus Goes To Political Leaders Putin Of Russia + Bin Salman Of Saudi Arabia.

And Make No Mistake…The Sovereign Governments Of Both Russia + Saudi Arabia Are Making All "The Calls" On Production In Their Respective Countries…As It Is Their Primary Source Of Revenue…30% Of GDP For Russia + 42% For The Saudi's…Those Numbers Grow As A Percent Of Exports For Both.  So…For Them…It Matters…A Lot.

To The Contrary…U.S. Private Companies Make "The Call" On Domestic Production…Not D.C…And Oil Revenue As A Percent Of GDP Approximates Just 7.6%…Far Below Russia + Saudi Arabia.

Still…U.S. Sovereign Policy…To Be Specific…Monetary Policy…Has Had A Huge Impact On U.S. Oil Economics…Mightily Contributing To The Current Oil Glut.

**************************
How So?
The Short Answer = The Federal Reserve…Predominantly By Pinning Interest Rates At/Near Zero For…Essentially…A Decade.
And Odd As It May Sound…Many U.S Oil Producers Have Been Outspending Their Cash Flows Since '09…And Have Largely Been Encouraged To Do So…By The Yield Starved Fixed Income Market.
**************************
In Business Cycles Prior To The '08/'09 Depth's Financing Corporate's Saddled With Persistently Negative Cash Flows Would Have…Largely…Been Considered Reckless…Only Acceptable On A Relatively Minor Scale…But The Economic Game Has Changed Since The Onset Of Both Interest Rate Suppression + Quantitative Easing In 2009…And Continues Today…Of Which…The Far Reaching + Negative Economic Impacts Have Primarily Been Ignored.
The Recent Price Collapse In The Global Oil Markets Is An Example Of These Inevitably Disruptive Impacts…Catalyzed By Extremely Careless Central Bankers…Thus Influencing The Previously Rational Decision Dynamics Of Most Fixed Income Portfolio Managers.
**************************
It Works Like This…Yield Hungry Portfolio Managers Generate Very Little Absolute Return In U.S. Corporate Debt…As Corporate Rates Are Anchored By Sovereign Rates At 0%.
Thus…The Portfolio Manager Must Take More Risk…In Order To Generate Higher Returns…In Many Cases Acquiring The Debt Of Negative Cash Flow Generating Domestic Oil Companies…Enticed By Higher Current Coupon Payments/Income.
But Balance Sheet Risk Is The Trade-off To Current Income…As The Endless Burden Of Debt Increasingly Weighs…Unless Oil Prices Continually Grind Higher…And Since '09…Prices Have NOT Accommodated [see below].


Some Oil Company Executives May Be Skilled Enough To Forward Sell Their Production At Higher Prices…But That Is An Expensive Exercise In Insurance…That Can Materially Cut Into Returns…And Is Largely The Domain Of…Typically…The Largest Companies.
**************************
And Now…The Black Oil Swan Swoops In To Devastate + Shock The Entire Oil Industry.
The Most Vulnerable…Those Many U.S. Producers + Service Providers That Serially Outspend Their Cash Flows…Some Even Borrowing To Pay An Equity Dividend…Rather Than Their Directly State Subsidized + Supported Competitors In Russia + Saudi Arabia.
Of Course…Now Donny T. Is Even More Pissed Off Than Usual…As He Requires Petroleum Focused States Like Texas…In The Oil Patch…To Secure Electoral Victory In Fall '20 Elections.
So He Stumbles Into The Fray To Wave His Perceived…Presidential Wand…In Order To Rescue A Debt Drunken Industry Inspired By A Central Bank's  Obsession With Interest Rate Suppression.
Consequently…Russia + Saudi Arabia Quickly Acquiesce + Cut Supply…But The Volume Cuts Are Nowhere Near The Plunge In Demand…And Oil Prices Continued To Plummet…Rallied Since…But Still Below $20 barrel For WTI.
**************************
Ironically…Behind Closed Doors The Russians + The Saudis Just May Be Giggling With Delight.
Sure…Prices Are Down + That Hurts…But Their Relative Pain Is Diminished By: Costs That Are Generated In Their Own Paltry Currencies [ruble + riyal] + Direct Sovereign Subsidies + Favorable Tax Policies + Revenues Realized In The World's Most Valuable Currency = $U.S.
And Just Maybe…Prior To The Disintegrated Supply Curtailment Between Russia + Saudi Arabia…Both Of These Countries Forward Sold Their Supply At Loftier Prices…Allowing Them To More Easily Withstand This Brutal Price Slump…Certainly Better Than Their U.S. Rivals.
And BTW…The Russians Have Played This Game Before…In The Summer Of July 2013…The Global Fertilizer Market…Bringing The Potash Market To Its Collective Knees With Massive Price Declines…Driven By Over-Production …And Aggressive Price Cuts.

The Fertilizer Market Has Flat-Lined Since Then…And Maybe This Is The Template For Oil Too.
**************************
So…The Self Described Presidential "Dealmaker" Has Allowed Two Puny Countries [one of which is almost entirely dependent on the U.S. for security of its oil production facilities]…With Combined GDP's Just Over 1/10th The Size Of The U.S…To Control The Global Price Of Petroleum…In A Direct Attempt To Crush The Cost Inefficient US. Oil Producing Industry.
And So Far…They Have Succeeded…As Corporate Producers In The U.S. Fall Over Themselves To Cut Capital Expenditures + Dividends + Employees + Production In Order To Survive This Vicious Cycle.
Maybe…If They Do Survive…They Will Suspend Negative Cash Flow Production…But Even That Is Unlikely…In The Medium Term…As Low Cost Debt Is The Elixir For Any Marginal Business Model.
**************************
Ironically…Prior To The Fracking Phenomenon In The U.S….That Has Boosted U.S. Oil Production To The Top Tier…Recently Tumbled Oil Prices Would Have Been Celebrated…Trumpeting The Efficiencies Of A "Free" Market …Solely Subjected To Demand + Supply.
But No More…Now The U.S. Prez…And Oil Industry Executives Too…Are Whining About A "Fair Oil Price"…To Defend Their Money Shredding Business Models That Have Been Exposed…As Their Underlying Equity Soberly Reflects [see below]…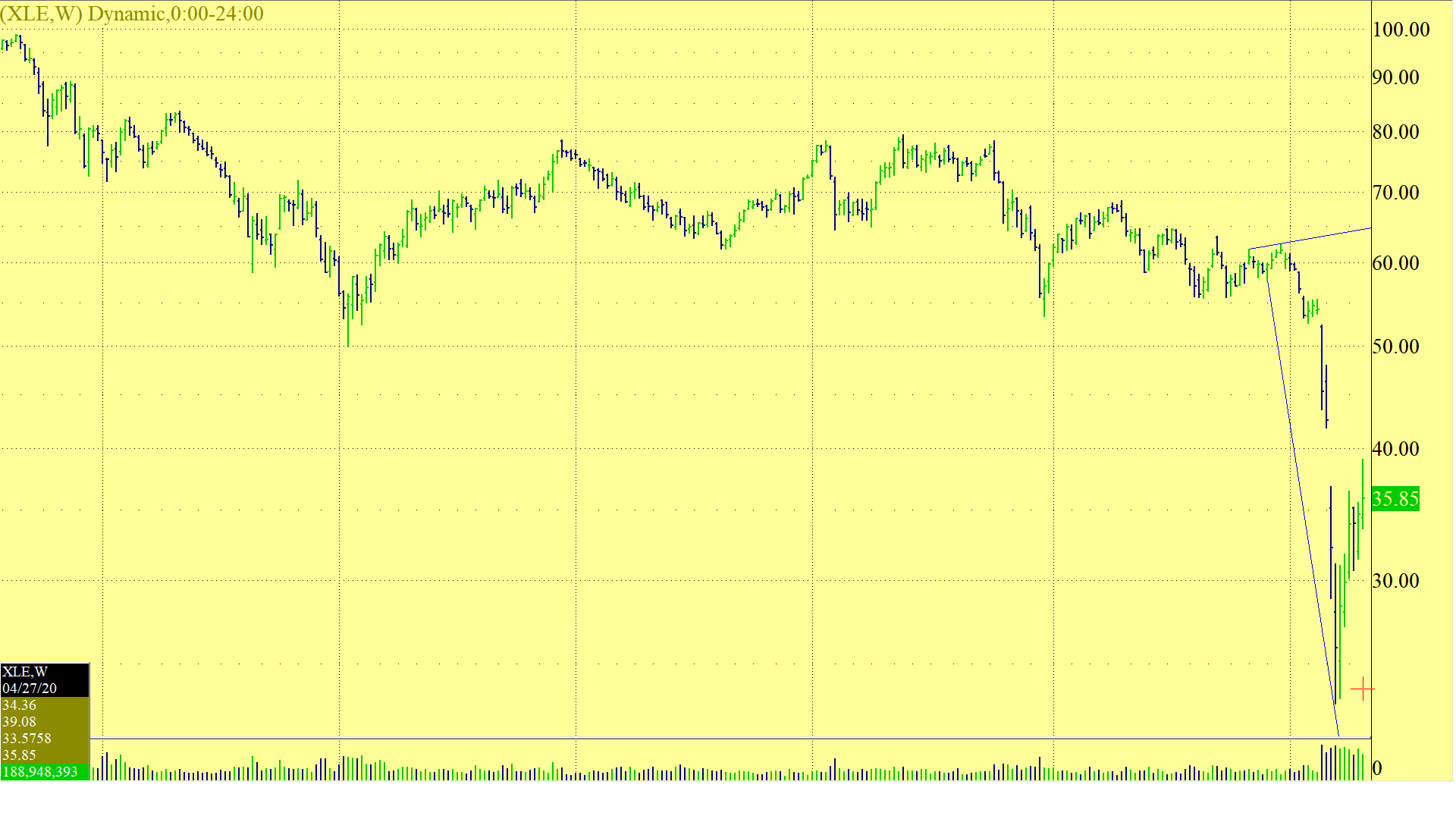 Memo To Both Prez. Donny T. + U.S. Oil CEO's = "Business Is Anything But Fair"…Especially When You Are Competing Against Autocratic Sovereigns Like The Russians + Saudis.
**************************
Naturally…Donny T. Desperately Wants Higher Oil Prices…But To Get Them…It'll Require More Than Just U.S. Production Cuts…That Is…More Cuts From Russia + Saudi Arabia…Which Ain't Happening…At Least Not Voluntarily.
So…What's The End Game?
Eventually…Demand Will Return + That'll Help…More Than Anything Else…But That Could Take Some Time…Even Beyond The Early November Voting Calendar…Of Which…Trump Seems Obsessed.

As For Supply…It Could Be Foolish To Rely On Both An Inexperienced + Ruthless 34 Year Old Leader In Saudi Arabia And 67 Year Old Former Head Of The KGB + "Master Of Chaos"…To Submit To Further U.S. Demands.

******************************
Still…The U.S. Is The Globe's Largest Consumer Of Oil + The Second Largest Importer Of Oil [just behind China]…Which Equivocates To A Mountain Size Of Negotiating Leverage.
But In This Case…That Leverage Might Not Yield Much In Return…As The Oil Extraction Economics In Russia + Saudi Arabia Far Outweigh Their U.S. Counterparts…Of Which Politically Secure…And Patient…Putin + Bin Salman Are Acutely Aware.

******************************
Of Course…Donny T. Always Has The "Nuclear" Option…That Is…Pulling U.S. Security From Saudi Arabia…Allowing For Increased Vulnerability From Long Time Saudi Antagonist Iran…Thereby Destabilizing The Middle East…Bin Salman's Power + Putin's Influence…Absolutely Included.
Many Dominoes Could Fall…But Not The Oil Price Domino…Indeed…That Rectangular Block Would Likely Lift Much Higher…Under Such A Scenario.

But By Now…It Is Clear That Trump's Convictions Are Short On Starch + He Undeniably…Lacks "The Sack"…To Make Such A Bold Geo-Political Move …Even If The Result Were To Increase His Re-Election Probabilities.

******************************
Contact The Author: Dominate@GlobalSlant.com