Headline:
Equity Markets Love Covid Driven Liquidity
************************************************
There Are Almost An Infinite Supply Of Equity Market Indicators.
Still…No One Indicator…Or Even A Cocktail Of Many Indicators…Is Even Close To Perfect…Let Alone Regularly Reliable.
Frankly…Most Indicators Are Entirely Useless…When Tested Across Vast Data Sets Over Just Medium Time Frames.

But A Select Few Do Merit Attention.
One Such Indicator…Is Investor's Intelligence Weekly Bull/Bear Data.
Yet…Despite It's Relatively Simple Presentation…This Data Series Can Be Surprisingly Subtle To Interpret…

As It Can Be "Sliced + Diced" Into Scores Of Iterations.
************************************************
Anyway…According To The "Sliced and Diced" Version…What Does It Currently Indicate?
That Professional Money Managers Are Excessively Bullish…To A Rare Extreme.
But Just Because This Contrarian Signal Is Flashing BRIGHT RED Does NOT Necessarily Indicate That Equity Markets Are Primed For A Short Term Sell-Off…Though That Could Easily Occur.
Further…Even At Presently Taut Levels This Particular Sentiment Indicator Could Prove "Sticky" For Several Months…Through Year End '20 Without Much Of A Problem…As Its Tactical Value Is Debate-able.
Eventually Though…It Will Reverse…Its Strategic Worth Is Reliable + Solid As Texas Oak.

So When The Sentiment Data Actually Do Revert…Equity Markets Are Particularly Vulnerable To A Sharp Move Lower.
There Just Is Not Much Slack In The Markets For Any Unfavorable News…Or Just Maybe…Not Enough Favorable News To Maintain Richly Valued Indices/Shares.

************************************************
Thus…To NOT Include This Sentiment Data In A Quiver Of Broad Qualitative  + Quantitative Market Indicators…Could Be Costly…
As The Big 4 Equity Indices Have Rallied Tremendously Off Of Their March '20 Lows…Without Much Of A Meaningful Pullback.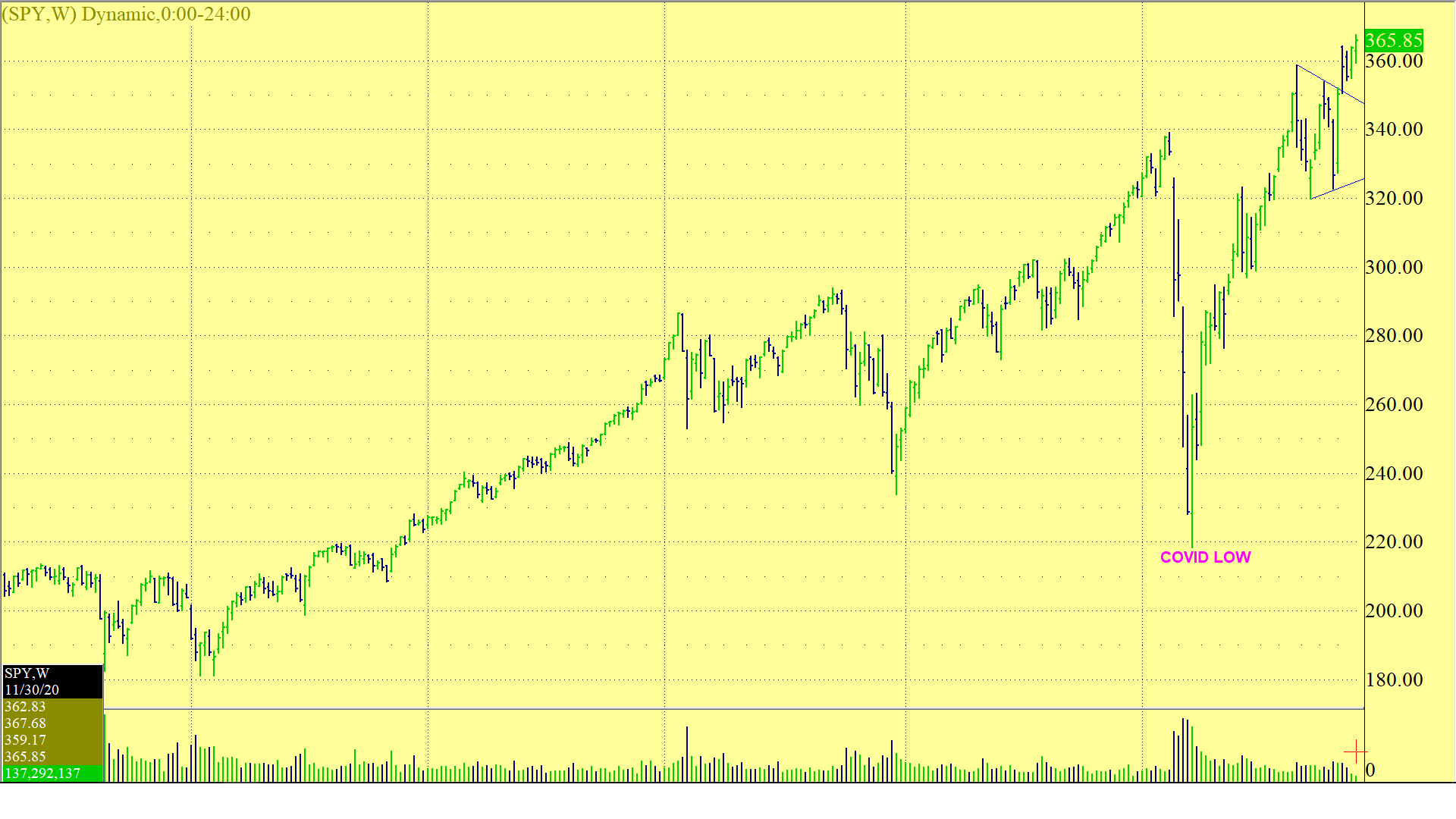 Consider The Following Returns Since March 23, 2020…

SPY = + 68.19% [see above]
DIA = + 65.29%
IWM = + 93.79%
QQQ = + 85.01%
In Just 8 Months = Simply Remarkable.
************************************************
The 4 Primary Reasons To Account For The Equity Rally…

1. Federal Reserve Liquidity Injections [see shaded portion of chart].
2. U.S. Treasury Liquidity Measures.
3. TINA = There Is No Alternative [to equities].
4. FOMO = Fear Of Missing Out [on equity gains].
…Are NOT ABSOLUTE + PERMANENT.
But…For Now…Are Perceived As Such…
Hence…Almost Unprecedented…Colossal + Unrestricted Bullishness.
************************************************
Naturally…Bullish Sentiment Could Elevate + Propel Even Higher…But That Scenario Would Likely Be Short Dated.
************************************************
Contact The Author: Dominate@GlobalSlant.com